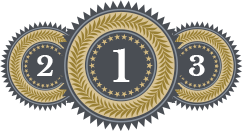 At Osteen Law Group, we are committed to representing every client like they are our only client. Professionalism and personal service are our trademarks. If you have been injured in a car wreck, give us a call to find out what makes us different than other lawyers.
James N. Osteen, Jr. (Jay) and C. Joel Osteen are the founding members of Osteen & Osteen. Jay Osteen was previously recognized in Super Lawyers Magazine as one of the best young lawyers in the State of Georgia and was one of only twenty lawyers selected in the area of personal injury law. Further, C. Joel Osteen was previously recognized as the best area attorney three years in a row through voting in the Liberty Loves campaign.
We maintain professional relationships with nationally known experts in fields of accident reconstruction, medicine, engineering and economics and we are equipped with state of the art technology, including an animation studio, to ensure the highest quality legal representation for our clients.
We also have our own courtroom where we prepare our clients and cases for trial. Our courtroom allows us to prepare our clients in a real courtroom setting to reduce the anxiety associated with testifying at trial and to present cases to mock juries and then study juror reactions during deliberations on our closed circuit television.