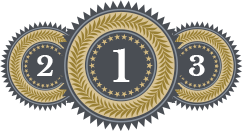 At Osteen Law Group, we are committed to representing every client like they are our only client. Professionalism and personal service are our trademarks. If you have been injured in a car wreck or charged with a crime, including DUI, give us a call to find out what makes us different than other lawyers.
James N. Osteen, Jr. (Jay) and C. Joel Osteen are the founding members of Osteen & Osteen. Jay Osteen was previously recognized in Super Lawyers Magazine as one of the best young lawyers in the State of Georgia and was one of only twenty lawyers selected in the area of personal injury law. Further, C. Joel Osteen was previously recognized as the best area attorney three years in a row through voting in the Liberty Loves campaign.
We maintain professional relationships with nationally known experts in fields of accident reconstruction, medicine, engineering and economics and we are equipped with state of the art technology, including an animation studio, to ensure the highest quality legal representation for our clients.
We also have our own courtroom where we prepare our clients and cases for trial. Our courtroom allows us to prepare our clients in a real courtroom setting to reduce the anxiety associated with testifying at trial and to present cases to mock juries and then study juror reactions during deliberations on our closed circuit television.
OUR PRACTICE AREAS
Personal Injury
We handle all types of personal injury cases. Click to find out more.

Criminal Law
We have successfully defended criminal cases all over the state of Georgia.

DUI Law
There are few areas of the law more complicated in Georgia than DUI law.

Speed Reductions
We handle speed reduction cases in many jurisdictions.

Wills & Power of Attorney
Everyone needs a will. Get it done right the first time.

Incorporation
We can handle all of your business law needs at Osteen Law Group.

Building & Zoning Issues
Our experience can help you navigate from property acquisition to project completion.

Traffic Cases
Don't make the mistake of going to court alone or with unprofessional and unprepared counsel.

OUR HISTORY
– 1997

, Osteen Law begins

On June 30, 1997, Joel Osteen, a former Assistant District Attorney, purchased 113 N. Commerce Street, an older house adjacent to the Liberty County Courthouse, in downtown Hinesville. After major renovations were completed, he opened the Law Office of C. Joel Osteen later that year and began a practice representing people who had been injured in car accidents, were charged with crimes or just needed help in legal matters.
– 1998

, Jay joins Joel in practice

Jay Osteen, Joel's brother, joined Joel in practice in early 1998 and formed Osteen & Osteen. Jay brought additional experience in handling personal injury cases, including major automobile and trucking accidents. Jay and Joel continued to practice out of the North Commerce Street office until more space was necessary as the practice grew and more staff was necessary to handle the increasing caseload.
– 1998

, Office opens at Fraser St. and Ogelthorpe Hwy.

On July 7, 1998, 100 Fraser Street was purchased, and after major renovations, Osteen & Osteen moved to the corner of Fraser Street and Oglethorpe Highway in Hinesville. The office was later expanded to double the size, including the construction of a courtroom inside the office. Jay and Joel practiced at this location focusing on major personal injury cases for the next sixteen years. After successfully representing clients in major commercial vehicle and trucking accidents, commercial airline crashes, automobile accidents, products liability cases, maritime injury cases, medical malpractice cases and pharmaceutical negligence cases, the office was sold in late 2013 to make way for a new office.
– 2014

, New, larger office built across the street

A new, larger office was constructed across the street from the old location on Fraser Street in early 2014 and the firm moved over. On July 3, 2014, Osteen & Osteen became Osteen Law Group, LLC. Jay and Joel and the experienced Osteen Law Group team continue to represent injured clients in a variety of legal matters at their new location at 101 Fraser Street, Hinesville, Georgia, next to Zaxby's on Oglethorpe Highway. In addition to personal injury cases, the firm represents clients in matters including criminal and DUI trial work, wills, estates, and business formation and litigation. However, as from the beginning, their practice focuses on representing clients with serious injuries caused by the negligence of others.